Quality Assurance
"ISO 9001 Certified" means an organization has met the requirements in the ISO9001 Quality Management System (QMS). ISO 9001:2008 is focused on meeting customer expectations and delivering customer satisfaction so that more focus can be served to the customer.
Quality Control
On-site Inspection
Critical Dimensions
Material Certifications
Third-Party Inspections
Export/Import Certificate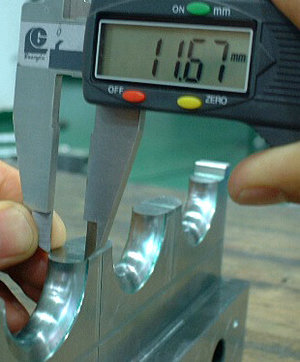 On-Site Inspection
Critical appraisal involving examination, measurement, testing, gauging, and comparison of materials or items. An inspection determines if the material or item is in proper quantity and condition, and if it conforms to the applicable or specified requirements.
Statistical Process Control
The most important dimension in the design of a product, the SPC dimension is part of an in-process inspection plan throughout the production process. A noncompliant critical dimension will likely cause an important feature to be defective.
Tracking of Critical Dimensions
A critical dimension can also be defined as a dimension that must comply with regulatory or industry requirements, such as the size of a USB connector.
Establish Validation Dimensions
The validation dimension is critical to the function of the product and is shown to or is expected to correlate well with another dimension inspected during the process. Therefore, it needs to be inspected only during a process capability study and in the first production article.
Material Certifications
A mill test report (MTR) and often also called a certified mill test report is a quality assurance document used in the metals industry that certifies a material's chemical and physical properties and states a product made of metal is in compliance with an international standards organization (such as ANSI, ASME, etc.) specific standards.
Polymer Analysis and Testing
Chemical testing of polymers and plastics is required to ensure that a material is suitable for its intended application.  Quality control of polymer raw materials and finished, formulated, products can be achieved through a wide range of chemical tests and techniques.
Tool Steel Comparison Chart
The choice in tooling is critical to a successful production run. The quantity of your production significantly impacts the type of tooling required. Some molds are designed to run only a few batches, whereas high-production tooling might be designed to produce millions of parts. Similarly, the material being molded, will impact your choice of mold/tooling. Dalton Manufacturing and Consulting Group can supply Production Tooling/Molds for both plastic and metal parts; and for Domestic or International Manufacturing.